The Pumpkin Sling in 2016 was held at Picatinny Arsenal. and was a joint effort between organizers and the STEM Office at Picatinny.
The Pumpkin Sling is a competition between participating teams that build a human powered catapult or trebuchet, designed to propel a 2-4 lb. pumpkin.
Careers and subjects surrounding STEM (Science, Technology, Engineering, and Math) are in high necessity and it is important for the youth of today to be exposed to these subjects early to develop interest. The Pumpkin Sling contest allows participants to use STEM knowledge in a fun and competitive way. By building catapults to fling pumpkins, participants will be using a variety of physics and mathematics including: linear kinematics, projectile motion, trigonometry, and engineering physics. To reach maximum distance, participants will have to calculate the degree at which their catapult will fire.
Participants will encounter specific problems with their catapult. The pumpkin may reach maximum height without any distance or be fired into the ground. By troubleshooting and calculating, they will find the perfect median between range and height to make their pumpkin go the furthest distance. Along the way they will learn to construct their catapults to their own design involving the important quality of an engineer: designing and drafting. The pumpkin sling contest allows participants to use STEM in an interesting way in order to get people involved in the STEM subjects and careers.
Or more simply put, "Where brain meets brawn"
Click here to see the story of one team, Stomach Virus, and their journey from having their interest peaked to being World Champions.

Special thanks to the following businesses:

CR Shotwell Landscape - for always going above and beyond, to make sure all our pumpkins, straw, tools - basically everything - gets delivered to the site and back to the farm when the event is over!
Industrial Communications Co. - for loaning us the radios to keep our safety, measuring and organizers in communication throughout the event.
Riamede Farm - for donating large pumpkins used as directional markers to the launch site. (Picatinny has more than 1,010 permanent structures, including 64 laboratories, situated on the installation's nearly 6,500 acres!)
See media coverage from the 2016 Pumpkin Sling at Picatinny.
N.J. teens sling pumpkins from siege weapons at Picatinny Arsenal
NJ.com
Students launch pumpkin assault at Picatinny
Daily Record
NJ Students Compete In Pumpkin Launching Contest
CBS Local
Pumpkins Fly At Picatinny
NJ Herald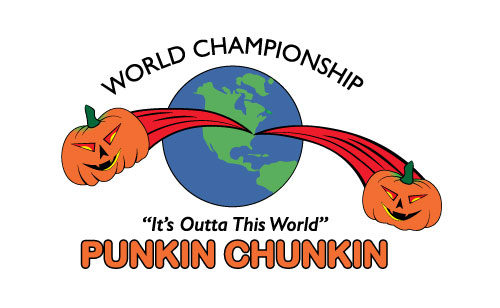 Pumpkin Sling is a World Championship Punkin Chunkin Event!
---